How do I edit my burned-in captions?
Once your caption order has been completed, you can review, customize, or reprocess your burned-in captions video using the following steps:
Select your file from your Workspace page to open it up in our customer editor

Click the download button in the top right of the customer editor (y

ou'll see a popup that has the SRT and Video file formats checked listed)

Remove the SRT file format (click on the x) so only "Video" remains

Select customize, then click next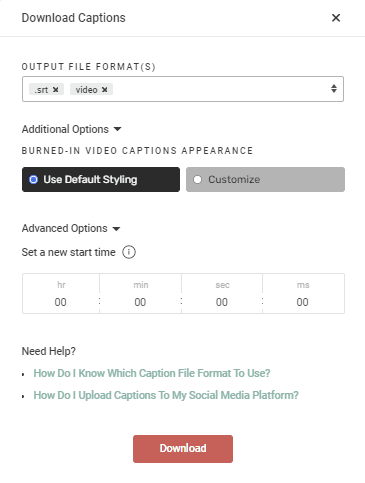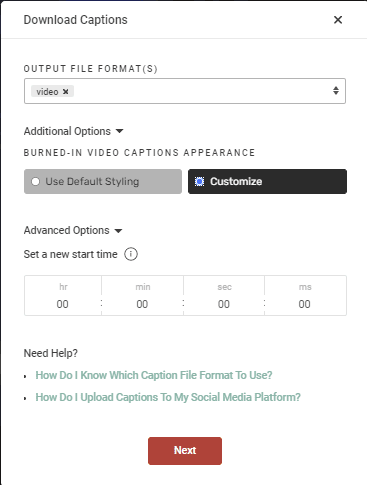 That will then take you to the burned-in caption customization options. The options you have available are: 


Text
Font size

Bold

Italics

Position
Font Types
Arial

Futura

Helvetica Neue

Lucinda Grande

Noto Sans

Open Sans

Roboto

STIXGeneral

Tahoma

Times New Roman

Tiresias

Verdana
Note for Subtitle Orders: Not all listed fonts are available in each language, if ordering Global Subtitles. 
Font Colors
The font color palette will display three default color options: Black, White, and Yellow. It will also include a hex value input field for users who want a specific color.

Position

The position of the text on your burned-in video can be adjusted to align to the top, middle, and bottom of your video. You'll also be able to justify the text to the left, center, or right of the video. Please note, the positional options will apply to all your captions and individual caption placement is not yet an option for our burned-in captions.

This short clip shows the various positional options: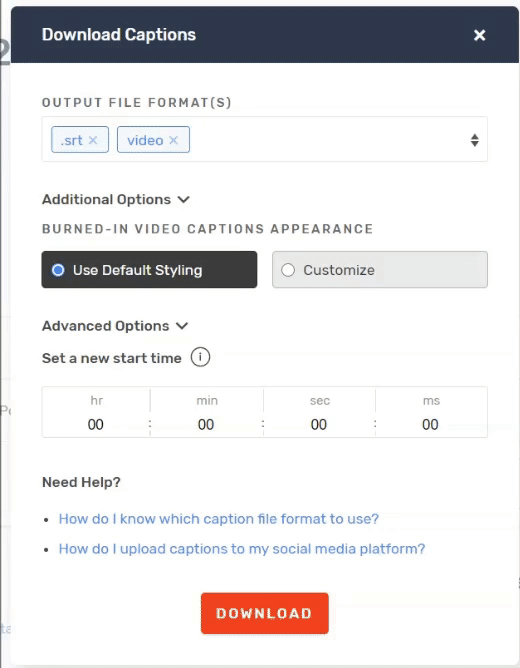 Background
None (no background color)

Outline (text is outlined in the selected color)

Wrap (caption group has a container in the selected color)
Background Colors
The background color palette will display three default color options: Black, White, and Grey. It will also include a hex value input field.
Default
The default settings for Rev's open captions and subtitles are Noto Sans. The font will be white with 50% opacity black wrapped background, and the size will be determined by the dimensions of your video.

Select your preferences, then, once you're done making changes, click on Generate Video to reprocess the burned-in caption file.

You may also set your preference for all Burned In Caption orders via the Order Preferences section of your Account Settings. Please note this applies to any future orders once added and will not change the settings of any active or completed orders. 

The burned-in video will not be downloaded instantaneously like the other caption output formats; instead, you will be notified via email once your burned-in video is ready, which takes roughly one-fifth of the length of the video (i.e. a 10-minute video may take about 2 minutes to burn the captions in).


For more information on how to download files from your completed caption order, see this article.