Welcome to Rev Max! We're excited to help you get started! 
You can click on any link to skip to the section of your choice:
What's included in Rev Max?
20 hours of AI Transcription per month for $29.99

14-day Free Trial 

Unlimited Zoom meeting transcripts via Zoom integration

These do not count towards your 20 hours/month

Access to Custom Glossary feature

5% discount on all our professional services including Transcription, English Captions, and Global Subtitles. 

Online Voice Recorder.

AI transcripts from our Voice Recorder App.

Language selection on

AI Transcripts Only. You can see the list of languages and ordering directions Here.
Ability to export AI transcripts into not only our transcription file formats but can also be exported into all of our Caption File Formats.
NEW PRO PLAN ONLY- 40 hours of AI Transcription for $59.99/month, 6% Human Services Discount, 5 Workspaces
How to transcribe a file
Login to your Rev account

here.

From "

My Files

", select "Place New Order" then "AI Transcripts" to upload your audio or video content for transcription with your Rev Max subscription.

Your completed transcripts will appear a few minutes later in your "My Files" page.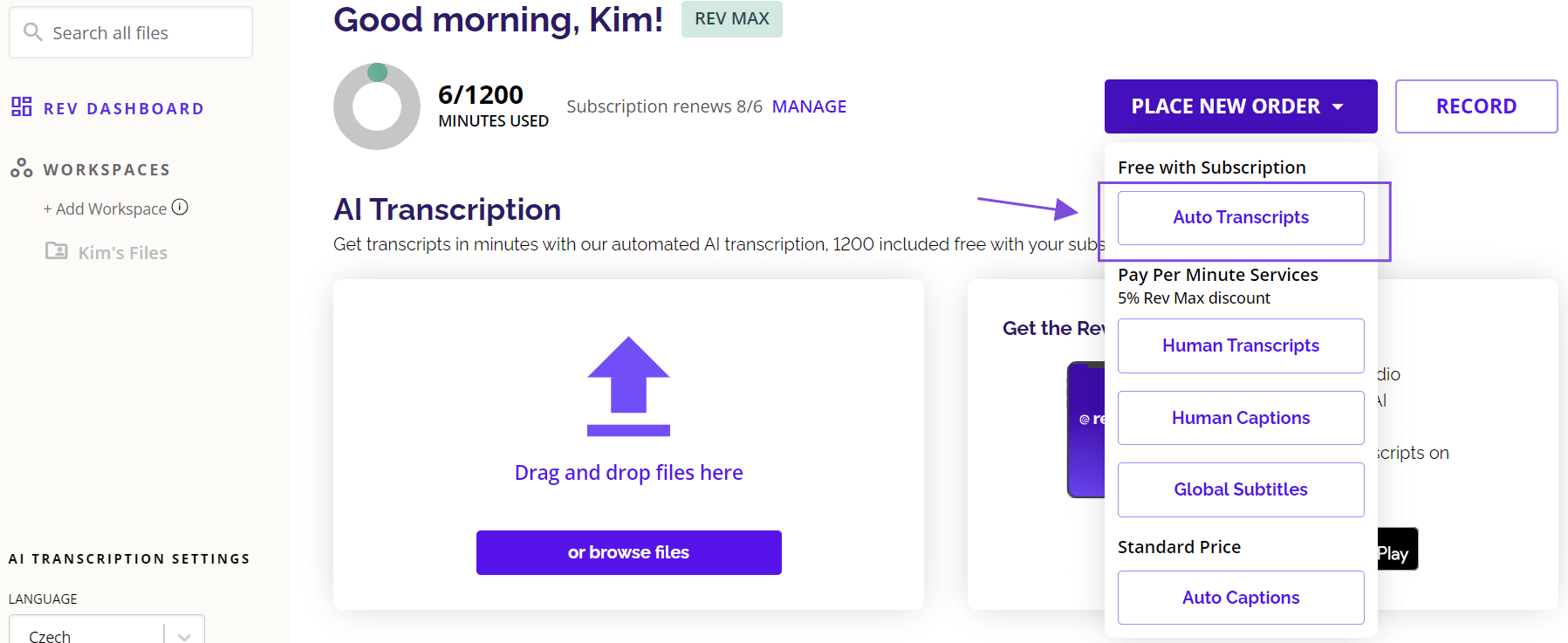 You can also use our frictionless upload option:
Select REV DASHBOARD in the upper right corner, which takes you to the Rev Max homepage.
Drag and Drop your files or browse files to select the one that you would like to use for your order. 


You can also order any Human Services on this same page:
How to set up and use the Zoom integration
Note: Only active subscribers have access to the Zoom integration. 

Once you are subscribed,from the Home screen, select the box Link Zoom Account inside of the Free Zoom Transcripts box to the right of the frictionless upload.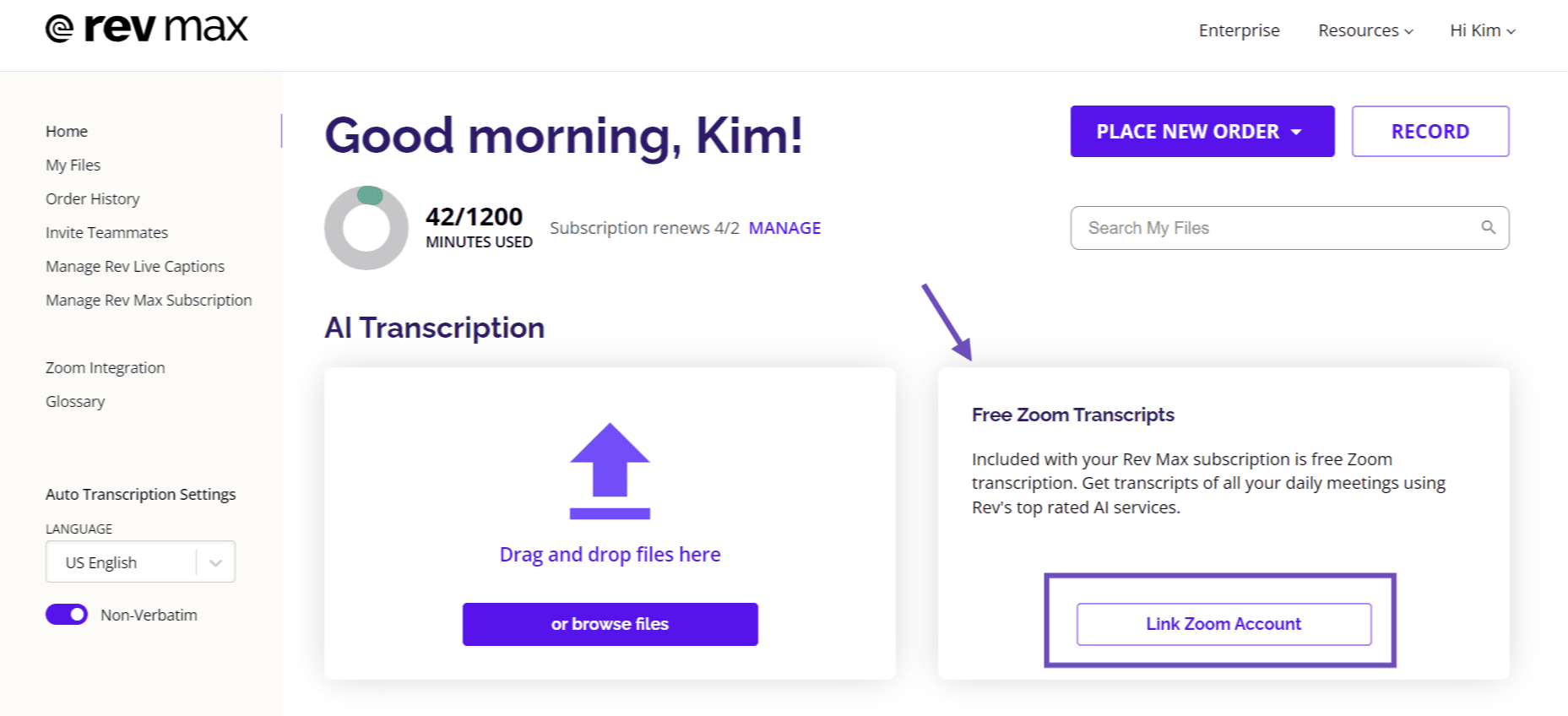 This will take you to the Get Started Zoom Integration Page. From that page, you can follow the simple steps to get started:
Link your Rev account to your Zoom account.



Note: You must have a Pro, Business, Business+, Enterprise or Education Zoom account to use this integration. This integration will not work for Free (Basic) Zoom users.



Configure your Zoom settings
Zoom settings that must be enabled to use the Zoom integration:
Cloud Recording Enabled

Record Video Enabled

Record Audio Transcript Enabled

For Zoom Business, Business+, Enterprise, or Education Customers,Zoom settings must be enabled to receive enhanced speaker identification

Record Audio Transcript Enabled
Note: We require users to cloud record their zoom meetings to use our app. There are limitations on Zoom Cloud recording that are listed in this article from Zoom.
Once you have completed those two settings, the Zoom integration is ready for use. During your next Zoom meeting, you need to record your meeting to the cloud. (Press Record > Record to the Cloud). Once the integration setup is complete, all meetings recorded to the cloud will be transcribed by Rev. The completed AI transcripts will live in My Files on rev.com. Quick reminder: You get unlimited Zoom meetings transcribed as part of your Rev Max subscription. Any meetings transcribed via Zoom integration do not count towards your 20 hours/month.
How to improve the accuracy of your transcript with our custom glossary feature:
Rev has built this feature so you can personally impact the quality of your transcripts. By submitting correct spellings of terms or phrases that you think will come up in your audio/video files and that may be difficult to transcribe, you can improve the accuracy of the transcript. Any submitted terms or phrases will be ingested by our speech recognition on all AI transcript orders.
Login to your Rev account

here.

Select "

Manage Glossary

" from the left-hand navigation. 

Add one phrase per line (can contain multiple words).

Focus on proper nouns and domain-specific words.

Use only English letters, spaces, hyphens, and apostrophes.




How to place an order for Human Transcription
Your Rev Max subscription only includes hours of transcription by Rev's AI transcription service. If you need to purchase human transcription, you will need to pay the per-minute rate of $1.50/minute with a 5% additonal discount. In order to do that,
Login to your Rev account

here

From "

My Files

", select "Place New Order" then "Transcription" to upload your audio or video content for transcription with your Rev Max subscription.
Your completed human transcripts will of 30 minutes or less will be delivered within 12 hours in your "My Files" page. You can view all of our Human Transcription turn around times here.

Please note that Human Transcripts cannot be downloaded in our caption formats and are only available in Word (.docx), .pdf and .txt and timestamps are an additional charge of $.30/minute.


How to use the Voice Recorder
Rev Max has an exclusive Online Voice Recorder that you can use while logged into your Rev account. You can easily record your audio and send it to be automatically transcribed when you are finished. You will also see a live transcription preview as you are recording. 
For best results, please speak directly in your microphone.
To use the Voice Recorder:
Press the Home button located on the left side panel.
In the top right corner, press the RECORD button.

On the next screen, press the

purple RECORD button. 
The recording will immediately start and you can begin speaking.*

Press PAUSE to pause your current recording.
Press RESUME to resume recoding.
Press CANCEL to cancel your recording. 
When you are finished hit SAVE TRANSCRIPT. This will automatically save and send your recording to be transcribed.

*Please note that the recorder only works for audio being spoken directly into a microphone and will not record phone calls or audio being played on the device you are currently using to record. 


How to manage your Rev Max subscription
Please go to the Manage Subscription page to make any changes to your subscription. This includes changing your credit card, downloading receipts, checking your remaining usage, canceling your subscription or renewing your subscription. 

You can also easily access the subscription management page in the middle-top of your page, under your greeting, and from your drop-down menu on the top right.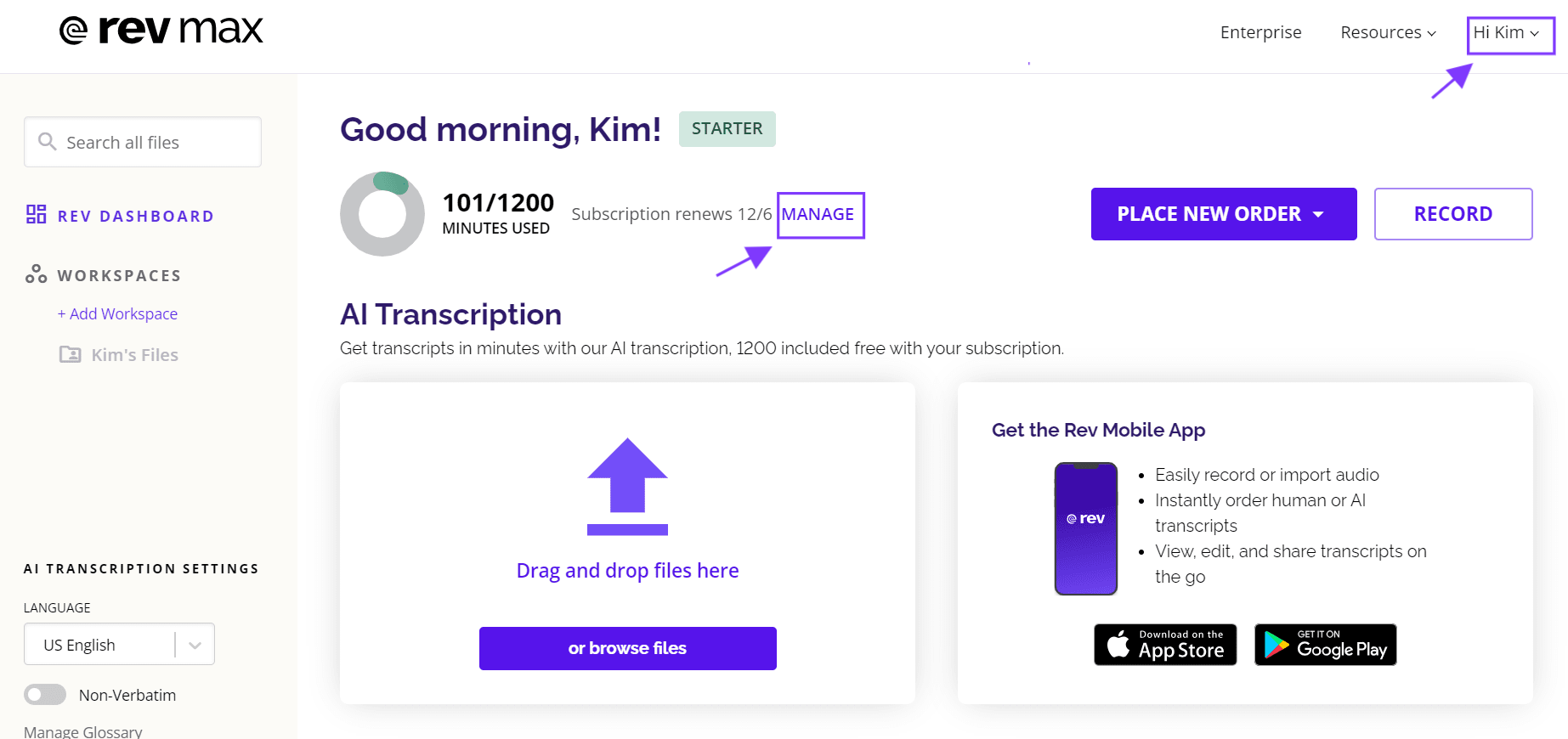 If you have additional questions, please check out this FAQ.