How do I download my completed translation?
You can download your translated documents from your Workspace page or your Order History page. Both can be accessed from the upper right menu of your account.
If you ordered a business translation, your documents will download as MS Word DOCX files, unless you originally provided and Excel or PowerPoint file. All certified orders download as uneditable PDFs.
From the Workspace page, click the ellipsis menu (...) next to the status of the file, then click Download.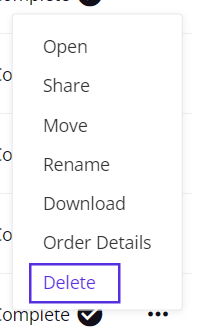 From Order History, click the order number, then click the purple Download link next to the file.